Spiciest Korean Foods
Can you handle the fire?
---
http://mokes420x.tumblr.com/
South Korea: home to some of the best red chili pepper-infused food the world over.
The question that naturally follows is: ready to nudge awake the slumbering beast...?
To start things off on a mellow note, we've got jeyuk bokkeum, or spicy stir-fried pork.
Typically consumed with a massive spread of rice and other side dishes. Yummy in my tummy!
All hail everyone's favorite choice of meat: chicken.
This aromatic variant is braised in an intimidatingly scarlet sauce with various veggies.
Kimchi stew is the ultimate pantry soup: kimchi, any available ingredients, and voila!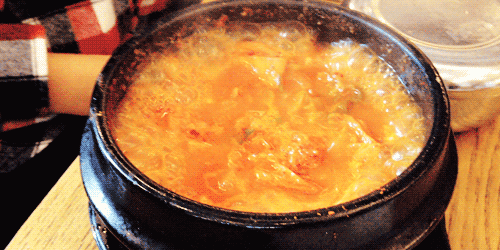 Ah, would you look at that bubbling pot of red broth? Now that is a symphony of sounds.
While this particular rendition of galbi-jjim is missing the prerequisite red tinge...
MangoPlate ID @kimdongwoo
You can always always find short ribs with that extra kick. Mmhmm, mucho caliente.
Is it just me, or is it blisteringly hot in here? No? Then let's crank it up a notch.
I'll let you in on a little secret: Korea's true fount of youth lies in that pile above.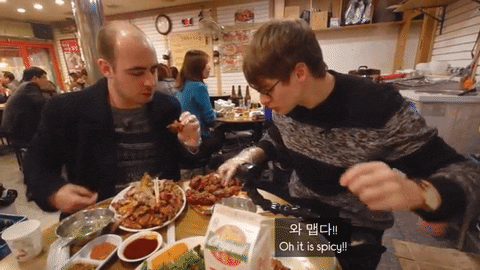 Benjamin Button-ing with spicy pig's feet since day one - if you can withstand the heat.
Instagram ID @creamycloud88
Next up: welcome to the Nine Circles of Noodle Hell.
When you're going in for the kill, but then you encounter a nasty little surprise...
See what I mean? #fire everywhere #ANDIMEANEVERYWHERE #someonestopthepain
As many can attest, spicy rice cakes are unbearably spicy enough in their original form.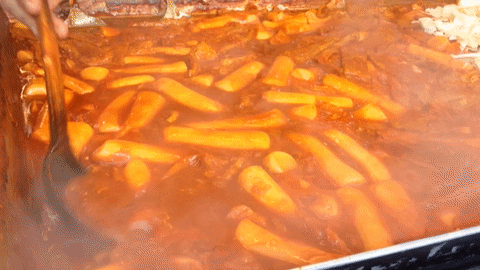 But Koreans have concocted variations that have transcended known bounds of spiciness.
Get ready to set your senses ablaze in a fireball of pain - in the best possible way.
Don't rely on the melted cheese on top or rice balls to mitigate the burn though.
One thing to know about Koreans is their insatiable love for octopus (see above).
You may have heard of live octopus, but it takes more nerve to face this formidable foe.
And for the glorious finale: jjamppong, or spicy seafood noodles. Deadly, yet addictive.
You miiight think the addition of seafood and vegetables will help lessen the burn. #wrong
And just like that, we're done! Wipe that sweat off your brow, because you are a survivor.
http://mokes420x.tumblr.com/
With your spicy Korean food badge in hand, go forth and conquer, you magnificent being.
---
The link has been copied.
Share it to your friends.
Kakaotalk
Facebook Messenger
LINE
URL